AODE Machinery appeared on the 10th Composite Materials (New Technologies, New Materials and New Equipment) and International Market Development Trend Summit Forum which was concluded successfully
2019-11-07
On November 26, the 10th Composite Materials (New Technologies, New Materials and New Equipment) and International Market Development Trend Summit Forum organized by China Composite Materials Network was grandly convened in Wanda Realm Hotel, Langfang City, Hebei Province, China. In the afternoon, industry experts and business representatives arrived at the site in succession. The total number of participants reached more than 300. Participating units included cutting-edge units and talents in various fields of composite materials industry (automotive lightweight, aerospace, rail transit, wind power — clean energy, weaponry, etc). The main purpose of the forum was to make composite materials experts jointly discuss the future development trend of composite materials in different fields and how to make China composite materials integrated with international market in craft, technology and equipment.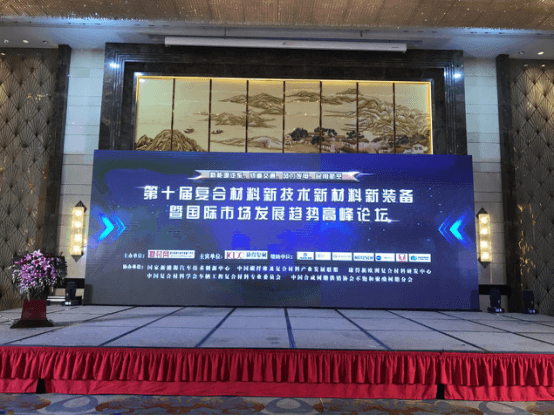 AODE Machinery (Tianjin) Co., Ltd., as the sponsor, attached great importance and gave much support to the forum. 5 people such as General Manager Mr. Wang Li and sales director jointly were present at the forum.
At the forum, all industry representatives described the application and development of composite materials in the industry in detail: the development of carbon fiber and advanced composite materials under civil-military integration, the development and usage of auto lightweight (effectively increasing auto strength and reducing auto body weight), the multi-industry application of carbon fiber pultrusion plate such as wind power blades, how to make temperature control unit better play the role in forming of composite materials, and how to better improve product performance and quality.

In the joyful and serious discussion and exchange, dinner link was coming. Dinner programs were very wonderful. Gifts were emerged in an endless stream. Participants felt particularly relaxed.
On November 28, the third day of the forum, according to the forum schedule, the organizer arranged the participating guests to visit the intelligent production line of Industry 4.0 carbon fiber composite parts of Kangde Composites Co., Ltd. (including carbon fiber light fabric production line, and carbon fiber fabric production line) and understand the cooperative application of mold temperature control units on the complete set production line.
The forum was concluded successfully with the link of "new technology, new market and new trend". Mr. Wang Li, general manager of AODE Machinery (Tianjin) Co., Ltd., said, "We will continue to dig deep in the field of composite materials, forge ahead with hardships, and join hands with industry elites to continue to promote the further development of composite materials industry and contribute to its development."

From the forum, AODE Machinery obtained an important enlightenment on how to develop and use new technologies with respect to current international composite materials market as well as how to face the new market needs and seek better development. Through the forum, we not only broadened the vision and understood the international advanced crafts, but also got a new direction of how to better play the role of temperature control unit in forming of composite materials.